Eyewash. Sounds self explanatory.But what is eyewash really used for? A question I see a lot is "Can you use tap water for eyewash"?Well, yes you can. But, unsurprisingly, there's a "but" and is quite a hefty "but", so let me explain.
What is Eye Wash Solution?
First of all, what actually is eyewash solution?
Eyewash is found in bottles and pods, contains a 0.95 sterile saline water. No antimicrobial agent or other substance has been added and this ensures that there is no irritation when it comes into contact with eyes or wounds. It's generally available in 20ml pods and 250ml or 500ml bottles.
What is eyewash used for?
Eyewash is used to remove irritants and foreign debris from eyes. It acts as a rinsing agent as well as providing a flushing process. It is also used to irrigate chemical splashes – vital where employees are exposed to chemical or corrosive materials.
It's also ideal as a wound wash for simply flushing away blood, dirt and debris prior to applying wound dressing.
What's the different used for eyewash pods and eyewash bottles?
Eyewash bottles contain either 250ml or 500ml of solution and pods contain 20ml. The pods are obviously more economical, as there is less waste, but they are not suitable in higher risk workplaces where there is a lot of grit, dirt or chemicals. They are however perfect for minor eye issues and they can be squirted directly at foreign objects or wounds. they are perfect to have as a general first aid item, in a bag or the car as well as on workstations for easy access by employees.
Eyewash bottles offer more of a flushing action and of course there is a lot more solution to use, so they are absolutely essential in higher risk workplaces.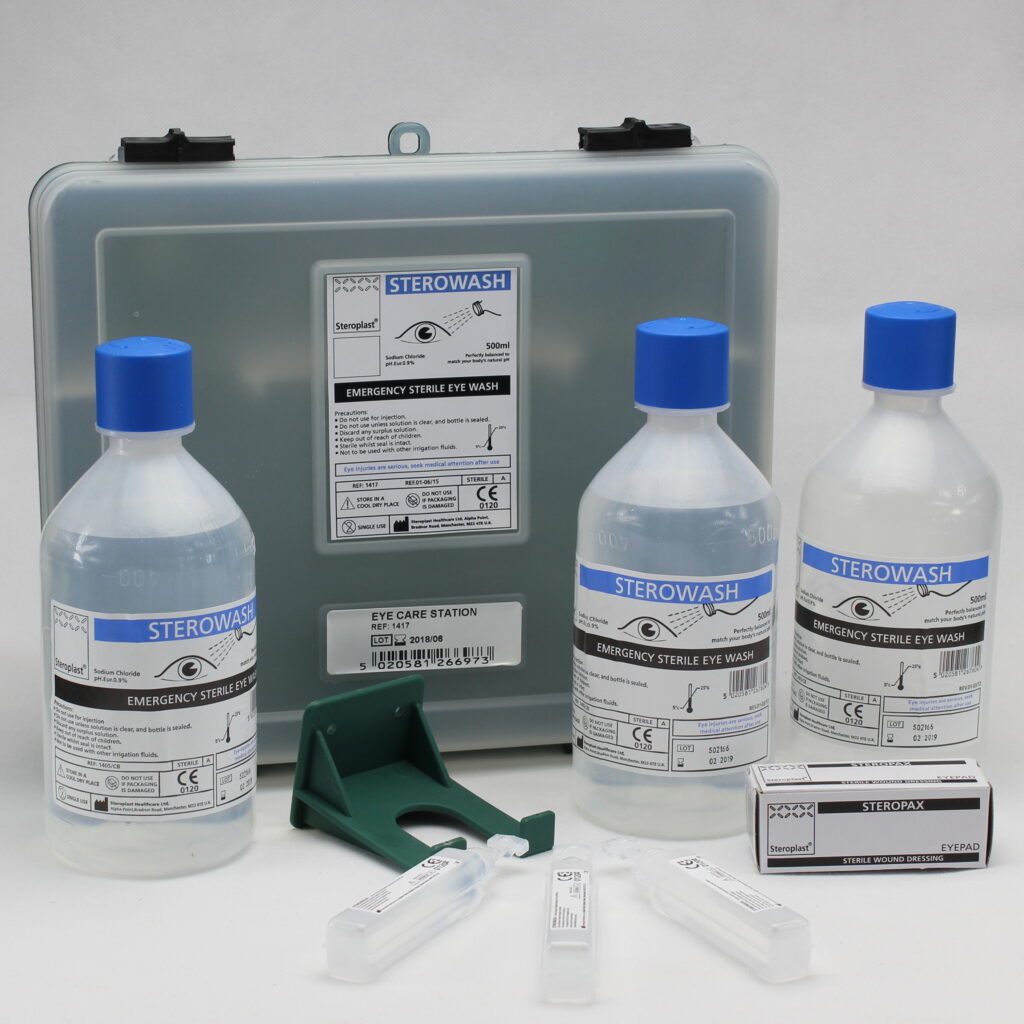 Eyewash solution is available in a variety of forms – from standalone bottles and pods, to complete kits and panels that can be mounted on the wall. Accompanying signage can make the eyewash stations exceedingly clear to employees and visitors to a workplace. It really does pay in the long term to have adequate eyewash stations and solutions.
HSE Requirements for Eyewash in the Workplace.
When providing any type of first aid (including eyewash) for a workplace, an need always has to be identified before any decision can be made on type of first aid or quantity. This always always begins with a Risk Assessment, which will define your choices. The HSE offer guidance on what should be typically provided based on the level of risk and the number of employees and it's up to you to provide adequate first aid from there. The Health & Safety Regulations(1981) states that employers should risk asses their workplaces in order to:
"provide or ensure that there are provided, such equipment and facilities are as adequate and appropriate in the circumstances for enabling first-aid to be rendered"
The HSE regulations are always guidelines, but the ACOP (Approved Code of Practice) advice does offer something morein the way of absolute requirement -when it comes to eyewash for employees,ACOP state that
"If mains tap water is not readily available for eye irritation, at least a litre of sterile water or saline (0.9% w/v) in sealed, disposable containers should be provided. Once the seal has been broken, the containers should not be kept for reuse. The container should not be used after the expiry date."
The key to it all here is the fact that mains tap water may not be readily available. By having bottles or pods as standard in your workplace, you are removing the possibility of mains tap water not being available – or more importantly, having mains tap water near the casualty.
Also we have found that using mains tap water is not always practical – Tap water is projected downwards and a person needing treatment is naturally looking upwards when flushing eyes and the situation can be very difficult.
Having eyewash solution in bottles or pods means that a person can assist the casualty even if their hands are dirty or they have protective equipment on.